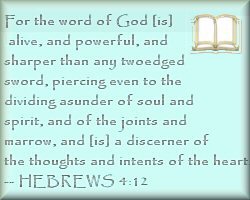 Overview
Bible Study Assistant (BSA) is a program to help in the study of God's Word using study lessons in MP3 files. Not only does it include an MP3 player for listening to study lessons, it also includes a full featured word processor and 4 different translations of the Bible; the Weymouth New Testament, the American Standard Version, the King James Version and Young's Translation. It's allows you to take 2 types of notes while you study, Verse Notes that pertain to a particular verse of the Bible (perhaps a corrected translation) and general Study Notes using the word processor that pertain to the overall topic being studied. One of the best features of BSA is that the MP3 player can be paused or moved backwards from any place in the program by using the F6 and F7 keys on the keyboard. Whether you're typing a verse note or study notes, you don't have to take your hands off of the keyboard to control the MP3 player. V2 Allows you to bookmark your location in the MP3 file and return to that location later. For details on the operation of BSA, download the the latest Helpile. Visit the Screenshots page to see what BSA looks like in operation.
Audio Bible Lessons
If you're looking for a source for audio Bible lessons, check out R. B. Thieme, Jr., Bible Ministries. Rev. Thieme exploited God's grace to the maximum and became one of the best Bible teachers of the 20th century. His son, R. B. Thieme III, has followed in his father's footsteps and also provides audio Bible lessons as the current pastor of Berachah Church.
Other pastors who offer Bible lessons in MP3 format are Joe Griffin , Robert L Dean, RK Lyon and Robert McLaughlin
Financials
Bible Study Assistant is available free of charge. No money is ever requested or accepted. You are free to download BSA for your own use and to redistribute it to others. See the license agreement for terms of use and redistribution.
Technical Details
Bible Study Assistant is written to work with Microsoft's .Net Framework 2.0. It will run on Windows XP, Windows Vista, Windows 7, Windows 8 and Windows 10. Windows 9x class operating systems and Windows 2000 are not supported. See the readme file for details.
What Bible Study Assistant is Not
Bible Study Assistant is designed for personal Bible study. It does not contain a concordance nor does it have any means of searching the Bible. If you want a computer program that allows you to search the bible or help you to prepare Bible teaching lessons, a program like E-sword will probably better suit your needs. It's one of the best Bible programs available, regardless of price.
Support
If you're having problems with Bible Study Assistant, please visit the support page or the Facebook page.